Springtime is officially here! While plants, flowers, and trees bloom and provide a beautiful relief after winter, they also bring seasonal allergies to not just people but also dogs! One of the most significant differences between allergies in humans and dogs is that humans breathe in the allergens in the air while instead for dogs, allergens get into their skin which creates irritation.
We've compiled a guide to seasonal pet allergies on the different signs and symptoms to watch out for, different allergy triggers your pup might be facing, and a few of the different treatment options.
Signs To Look For
There are a few signs and symptoms your dog might show if they are allergic to something. The most common areas on a dog that they will show allergies to are their paws, ears, and skin in their underarms, muzzle, and groin area.
A few signs your dog might show to look for are:
Licking their paws
Rubbing their face
Shedding more than usual
Biting their coat or skin and general skin inflammation
Licking their anal glands or rubbing their but on the floor
Ear infections or inflamed, smelly ears
Sneezing
If you notice any of these signs on your dog or other unusual behavior, it might be a good idea to make an appointment with your vet to discuss potential allergies and any treatment or prevention options.
Allergy Triggers
There can be countless things around your dog that are triggering their allergies making them uncomfortable. Some of the most common things are trees, weeds, and grass pollen — which are typically seasonal allergies while mold spores, mildew, and dust mites are usually more year-round allergies.
Once one of the above allergies enters your dog's body the immune system becomes inflamed which results in your dog showing one of the listed above signs usually occurs as your dog gets more uncomfortable.Just like humans, some dogs can have seasonal allergies and others can have year-round allergies.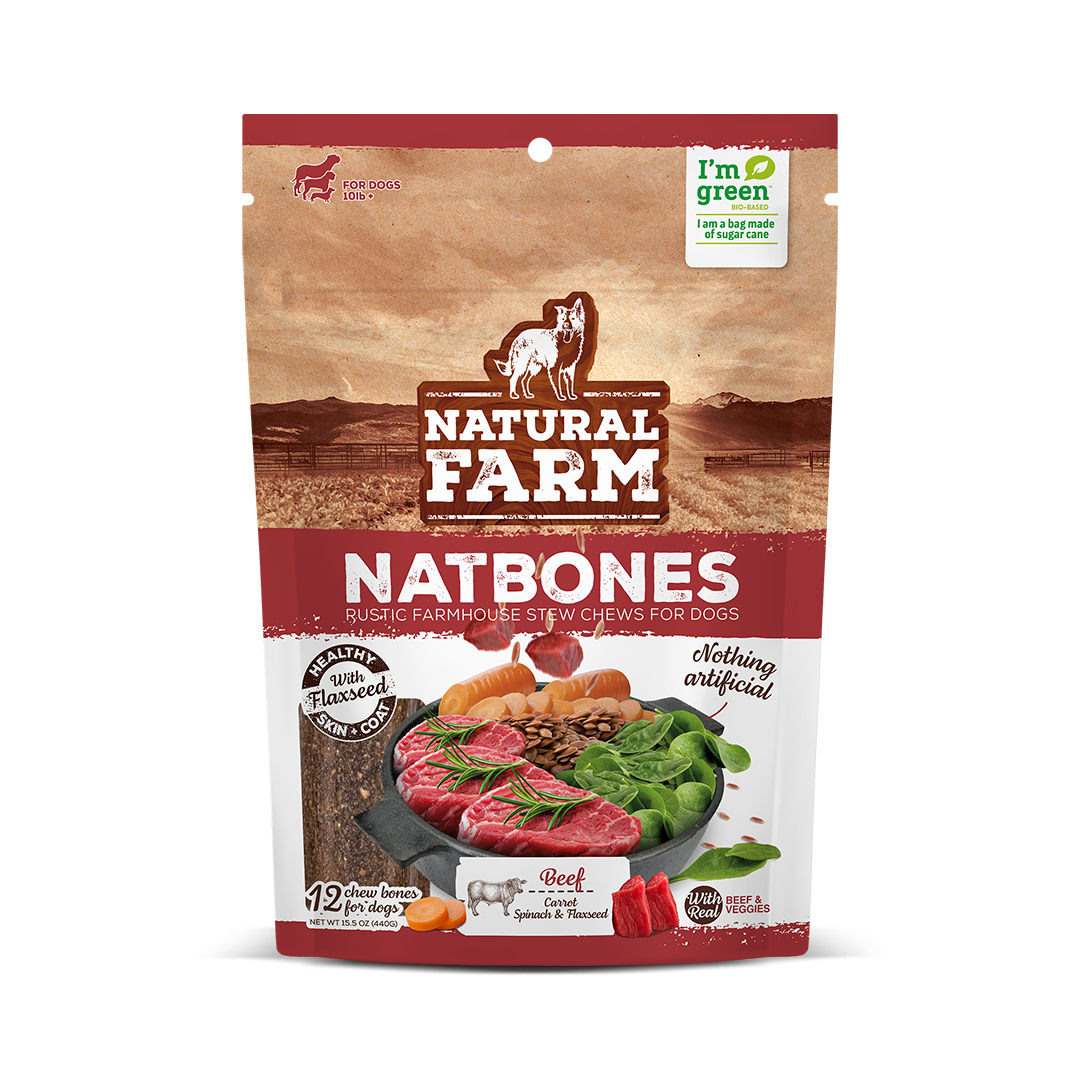 Treatment Options
Your vet will decide on the best treatment and preventative option for your dog based on their condition and severity. But a few of the treatment options are allergy shots, medicated shampoo, anti-inflammatory steroids, antihistamine medications, and most likely a recommendation to avoid allergens both inside and outside when possible.
A few things you can implement at home to combat seasonal allergies include:
Wiping your dog's coat and feet when they come inside to hopefully wipe away some of the allergens on them.
Give your dog more baths with a gentle, mild shampoo.
Clean your house more often, especially vacuuming.
Natural Farm is an all-natural dog treat company that makes a variety of chews and treats your dog will love, visit our store page to see our entire collection!
About Natural Farm
In 2018, after years of searching for high-quality, natural dog treat products, we decided to bring them to the market ourselves. That's how Natural Farm was born—we wanted to present the industry with what it lacked the most: natural dog chews, treats, and bones, sustainably sourced from local suppliers and produced in our own human-grade, FDA- and USDA-approved facilities, where every product is lab tested for quality and contamination.
Natural Farm is committed to pets, people, and the planet. We give back to communities and pets in need, support reforestation efforts and nonprofits, and our products are packaged using recycled materials.
Click below to view all Natural Farm treats today: