Author: Haley Gibbs
Dental health is important, which is why Natural Farm now offers a variety dental treats and chews for dogs! They freshen breath, promote healthy gums, and can be used for training or playtime!
Your dog's dental health is a vital part of their overall health and wellbeing. According to the American Veterinary Dental College, it's estimated that many dogs show signs of canine periodontal disease by just 3 years of age, with one of the earliest indicators being a dog's bad breath.
A great way to maintain your dog's oral hygiene is to offer them dental treats, chews, and bones. These can help not only to keep their teeth clean and gums happy resulting in fresher breath, but they also provide pups with an easy, enticing, and appetizing way to do so. As your dog chews or gnaws, the dental treats, chews, and bones gently scrub your dog's teeth and massage their gums to help reduce and prevent plaque and tartar buildup.
Below is a list of the best dog dental chews, treats, and bones available at Natural Farm.
Dental Treat Line
Say hello to our amazing Dental line, designed to promote oral health by gently scrubbing away tartar and plaque. These treats not only have a fun chewy texture that keeps your furry friend engaged for longer, but they also offer extra benefits like Vitamin C and egg-derived immunoglobulin to boost their immune system, and collagen to nourish their skin, fur, and joints. They feature gentle ridges that get into those hard-to-reach places while also serving as a massaging mechanism for the gums. Unlike other dental treats which crumble easily, our dental line has a unique, chewy texture that remains intact even with vigorous chewing. It's the perfect combo for a happy and healthy pup!
For pet parents who are seeking long-lasting options, check out these products:
A great dental treat for dogs happens to be a very healthy product that contains 95% collagen and premium quality beef for long-lasting fun and flavor that's rich in amino acids for brain health, bone density, a healthy coat, and joint support. The Gourmet Collagen Sticks are a twist on the classic collagen sticks, combining our irresistible collagen chews with an all-natural coating of beef for an extra bold and beefy chewing experience. These treats promote healthy gums and teeth by scraping away tartar and plaque while your pup chews them. With both four-, six-, and twelve-inch options, they're the perfect chew for dogs of any size that need a more durable chew stick.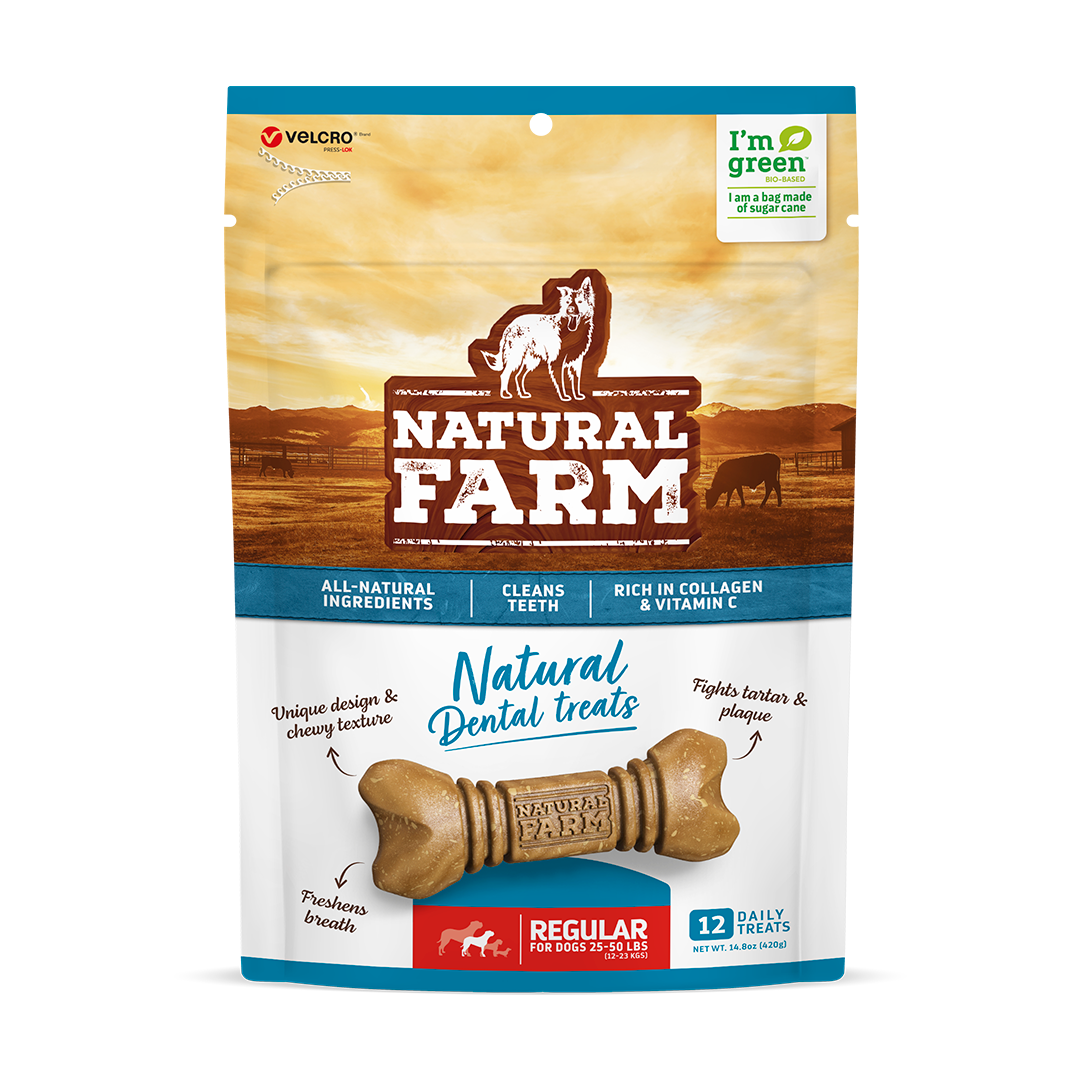 Standard Hooves
One of the best dog dental chews for bad breath is our Standard Hooves, a product that not only cleans your pup's teeth while they gnaw but provides long-lasting entertainment allowing them to release pent-up energy or anxiety in a healthy way. One of the benefits of these hooves is that they promote healthy teeth and gums, which can reduce the risk of dental problems in the future and freshen dogs' breath now. They can also be filled with yummy, dog-friendly fillings if you like to get creative in the kitchen. These chews are best for medium chewers.
Filled Dog Bones
Gnawing on Filled Dog Bones helps ensure cleaner teeth and healthier gums for your four-legged friend. With three delicious filling flavors—Bully Stick, Peanut Butter, and Bacon & Cheese—your dog will work to find their favorite flavors, challenging them to an ultra-enjoyable and engaging experience of getting to the delicious soft center! On top of being nutritious with calcium, gnawing these bones will also stimulate their brain and provide stress relief. This treat is made for larger dogs, and the bones are easily refillable.
Beef Trachea Chews
The savory and protein-rich nature of Beef Trachea Chews offer pups pure fun with a unique texture and shape to support cleaner teeth and fresher breath while also being highly digestible. These flavorful and engaging chews include both glucosamine and chondroitin which help improve joint, hip, and coat health. These chews are perfect for light to medium chewers.
Conclusion
No matter your dog's size, chew capacity, or life stage, Natural Farm has a wide range of dental chews, treats, and bones to satisfy most any dogs!
All of Natural Farm's products are made from free-range, all-natural beef and without any of the bad stuff like chemicals, hormones, and antibiotics. Visit our store page today to view a variety of the best dental treats for dogs that Natural Farm offers!